Created from Flow Hive offcuts, the Flow Pollinator House is designed to help build pollinator corridors through our urban landscapes.
Flow Pollinator House Assembly Guide
Construction of your Pollinator House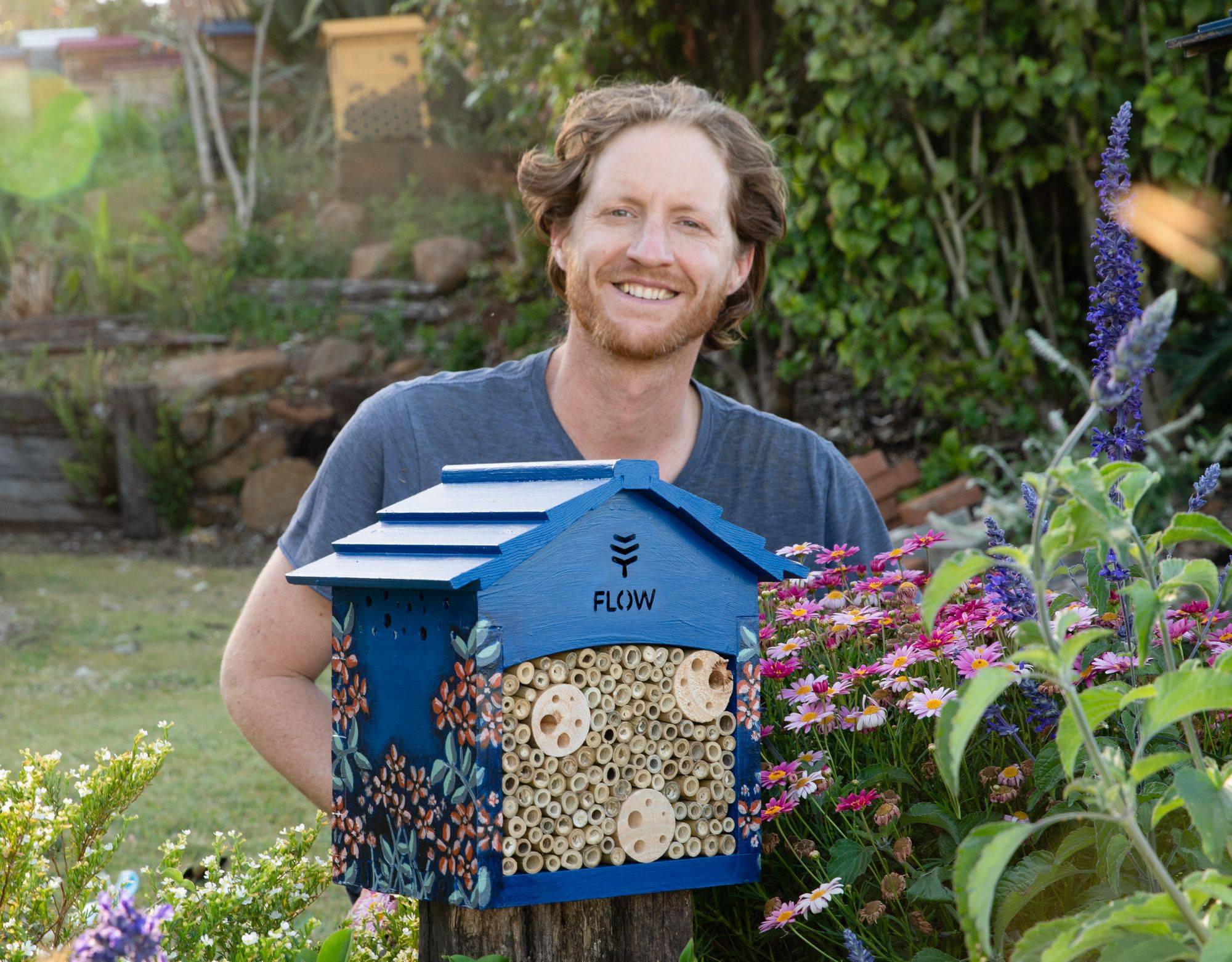 Your Flow Pollinator House has been manufactured from a combination of repurposed Araucaria timber offcuts, unused panels and sustainably sourced bamboo. Each house is unique, some even contain a Flow logo or handle on the salvaged timber panels.
Complete with eco ceramic coated screws, which can be easily installed with the supplied purpose-built hex key, assembling your pollinator house can be a great project to do with your family, adding your own creative touches.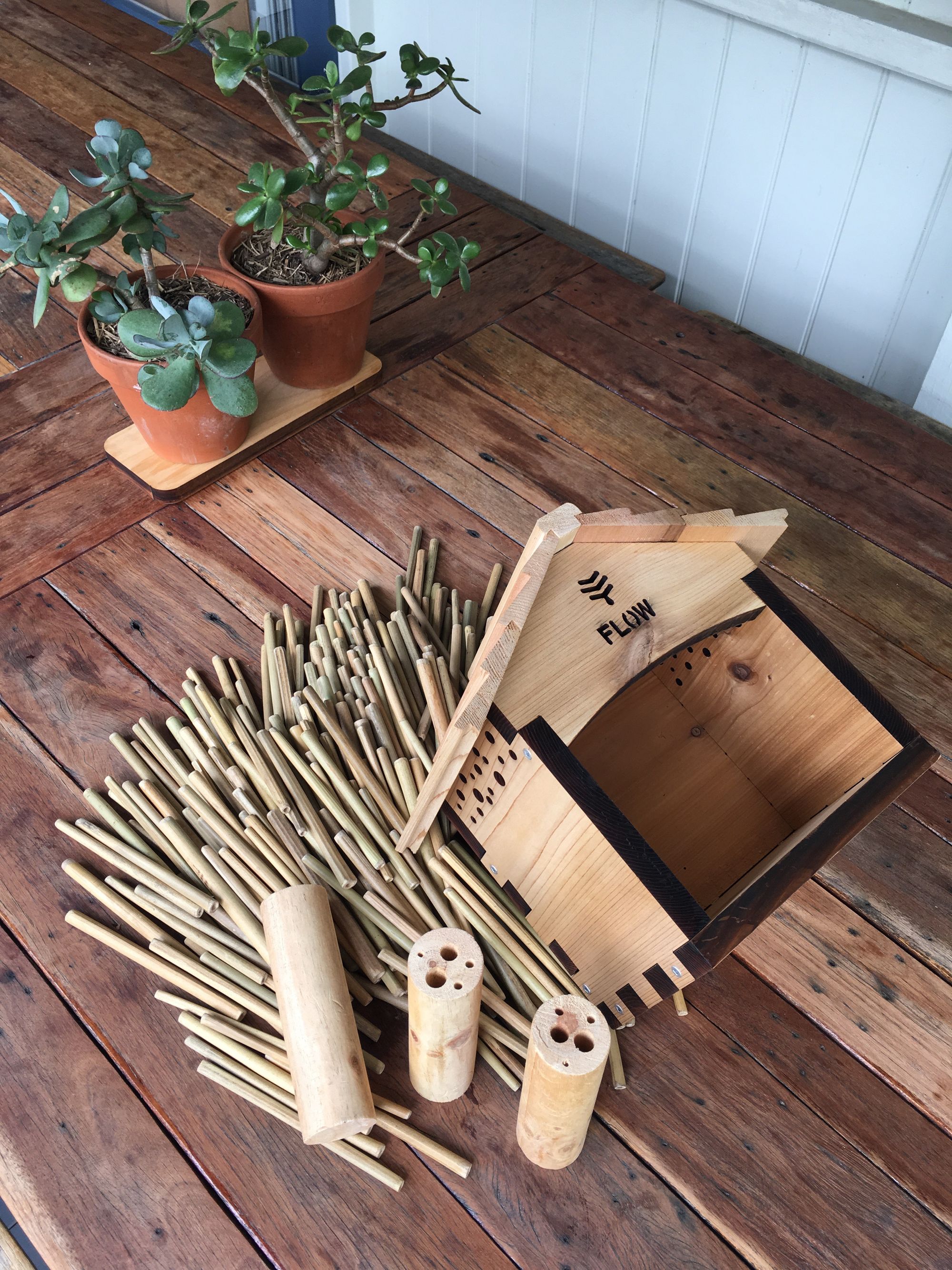 When you are ready to assemble, we recommend you construct the base and sides of your pollinator house first, then add the tubes and wooden rods (make sure to clear out any natural bamboo blockages to ensure your garden pollinators can gain easy access).
Bee creative, add your own unique home renovations, such as dried leaf matter, straw, grass or crumpled cardboard, to your pollinator house roof cavity to further diversify its appeal to different species.
Make sure to give your timber components including the roof,  two coats of weather-proof paint to keep your pollinator house dry and cosy throughout the seasons. It's a great chance to get creative and paint your pollinator house to make it a stand out feature in your garden.
Where to locate your Pollinator House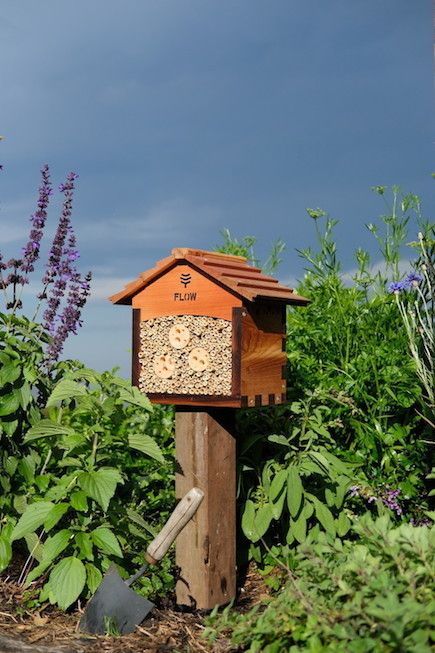 To create an attractive home for solitary nesters, it's a good idea to put some consideration into where you will locate your Flow Pollinator House.
Finding an area which is bathed in gentle sunlight, which won't get too hot in summer and is protected from prevailing winds, tall weeds and other animals is ideal. As such, you may consider placing the house 1 to 2 meters off the ground to protect it from animals and facing in a north-east direction to catch a good amount of non-direct sunlight.
Keep in mind that the position you choose should experience dappled sunlight in the summer, yet will receive enough sun in winter to warm the house.
Selecting a position which is already attracting insects, for example, either a garden bed with flowers, a pond or an area with some trees will help to encourage vacancies in your pollinator house to fill up quickly.
Don't forget to provide access to plenty of forage and water for your pollinators.
Pollinator House Maintenance
Depending on the severity of the local weather you experience, you may need to consider reapplying two coats of paint especially to the roof every 6 months to a year to help your pollinator house stay dry.
It is important to note, that like all hives, your pollinator house will require maintenance to ensure that it is safe and habitable for your solitary nesting visitors.
Just as beekeeping practices vary depending on location, so too will the maintenance required for your pollinator house be dependent on local conditions.
The bamboo inserts may need to be monitored for pests and to reduce the risk of spreading diseases. It can also be good practice to replace these tubes on occasion to limit the buildup of pathogens and fungus. Read more here.
Pollinator Factsheet